Meet Aubree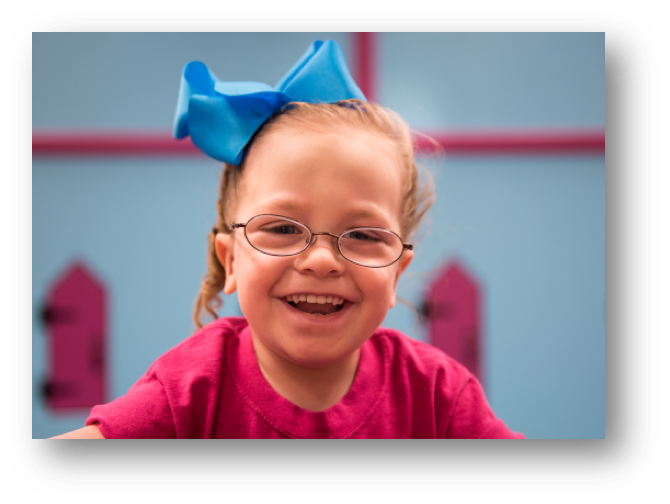 Imagine being a parent of three and expecting your fourth child.  Everything has gone perfectly during the pregnancy.  You are very excited about your baby joining the family.  During delivery there are unexpected complications and your baby daughter, Aubree, is admitted into the neonatal intensive care unit (NICU).  She is diagnosed with a heart murmur and has to see a cardiologist.  Your journey of changed expectations has begun.
…Aubree is diagnosed with an enlarged heart and failure to thrive.  She has difficulty feeding, gaining weight, and you feel such uncertainty when one developmental milestone after another cannot be achieved.  
Aubree has vision problems that affect her depth perception, sensory issues that hinder her ability to touch and feel objects, and developmental delays that impair her ability to walk.
After 3 years of unanswered medical questions your daughter is diagnosed with Cardiofaciocutaneous (CFC) a rare genetic syndrome.  CFC Syndrome affects the heart, facial features, skin and hair.  Your journey of changed expectations leaves you with more unanswered questions.  But you find hope in the therapists at the Permian Basin Rehab Center that believe Aubree can achieve and meet her goals.
Expectations change when your child has a rare syndrome.  Developmental milestones take longer to achieve.  But great moments do happen in your child's life with dedicated and devoted therapy staff.   It may have taken longer than you expected but…..
The sense of pride and joy is immeasurable when your child begins to walk independently one week before her 4th birthday. 
For one Permian Basin Family, they do not have to imagine, because Aubree is their daughter and they are facing real life challenges.   Aubree and her family are honoring us by sharing the story of her journey, during the PBRC's Telethon 2016.
The Permian Basin Rehab Center helps children and adults, like Aubree, who face life challenges and changed expectations.   Children and adults that need to receive therapy to help them achieve basic skills that make them more independent.  Independence helps all of us have a sense of dignity and a feeling of self-worth.